The APA Nominating Committee, chaired by APA Immediate Past President Renée Binder, M.D., has announced the candidates for the Association's 2017 election as well as when voting begins and ends. learn more.

NYC First Lady Describes City's Overarching Plan to Improve MH Care



In her address last Thursday opening APA's fall conference, IPS: The Mental Health Services Conference, Chirlane McCray detailed a comprehensive plan to address the mental health needs of New Yorkers that was inspired by her own family's need for psychiatric care. Read more.
Free CME Course for Members Only



Each month APA makes available a free CME course exclusive to members only through its Learning Center. October's selection is "Childhood Precursors of Borderline Personality Disorder (BPD): Why Are Childhood Precursors Important?" This course summarizes the latest research on the childhood precursors of BPD and identifies the complex relationship between childhood adversity and BPD. Register here.
How to Interpret Your 2015 Supplemental QRURs



You are invited to participate in a call with personnel of the Centers for Medicare and Medicaid Services on Thursday, October 20, at 1:30 p.m. ET to get an overview of the 2015 Supplemental Quality and Resource Use Reports (QRURs), confidential feedback reports for medical group practices and solo practices on resource utilization for fee-for-service care. Learn more about the reports on the supplemental qrurs and episode-based payment measurement webpage. To register for this event, visit the mln connects event registration website.
Physician Compare Website to Feature Select 2015 Performance Scores



Did you know that some 2015 PQRS performance scores will be publicly reported on Physician Compare later this year? Learn more about how your scores may be publicly reported on Physician Compare at the upcoming public reporting information session. Webinars will be conducted at the following times:

Tuesday, October 18, at 11 a.m. ET/8 a.m. PT

Thursday, October 20, at 3 p.m. ET/noon PT

register today for a session.
Thinking About a Career Move? Check Out JobCentral



APA JobCentral is the career hub for psychiatry. View open positions, post a resume, or set up email job alerts. Visit jobcentral to view recently posted jobs, such as adult psychiatrist with Henry Ford Health System in Detroit, Michigan, or multiple psychiatry opportunities at the Brattleboro Retreat in Vermont. Browse through hundreds of more job openings across the country and around the world.
APA Petition Candidates: Please Note



The deadline to submit a petition to run for APA office in the 2017 election is November 15. More information is available by sending an email to election@psych.org.
Renew Your Membership Today



Continue to give voice to the millions of people around the world with mental illness, and enjoy even more of the robust member benefits you've come to expect from APA. As a psychiatric community, together we can accomplish even more. Remain a part of the APA family by renewing your membership today.
INTEGRATED CARE: WHAT IT MEANS TO YOU
Publications From American Psychiatric Association Publishing

Psychiatric News
Collaborative Care for Youth: Statewide Success Stories



In some communities the wait to see a child psychiatrist can be up to 12 months, if one is available at all. This often leaves primary care providers as the sole mental health prescriber for a child. In a recent Psychiatric News column, Robert Hilt, M.D., the associate medical director of Behavioral Health Consultative and Community-Based Programs at Seattle Children's Hospital, describes several collaborative care initiatives in the state of Washington that are helping to connect primary care providers with child psychiatrists. Read more.


Psychiatric Services
Collaborative Care Found to Reduce Postpartum Depression Risk Among Socioeconomically Disadvantaged Women



Depressed women who experience an adverse birth event, such as preterm delivery, are at risk of even more severe postpartum depression. In this study of Medicaid-enrolled women, a collaborative care intervention called MOMCare mitigated this risk and reduced postpartum symptoms. In MOMCare, a depression care specialist on the obstetric team provides brief interpersonal psychotherapy, pharmacotherapy, or both, along with help resolving practical, psychological, and cultural barriers to care. Read more.
FOR RESIDENTS AND FELLOWS
New Courses Added to SET for Success



The supplemental education and training (set) program helps residents and fellows build knowledge around the six ACGME core competencies and Psychiatry Milestones and learn about the business of medicine. Check out 60+ courses, FREE to residents and fellows!

MOST VIEWED ARTICLES IN
PSYCHIATRIC NEWS LAST WEEK
Why 'Physician Heal Thyself' Does Not Work
How to Document Psychotherapy Sessions
Dealing With Commercial Insurance Peer Reviews
Important Changes in DSM-5 to Become Effective October 1
Sleep Experts Issue Recommendations for Children and Adolescent Sleep
CURRENT ISSUE OF
PSYCHIATRIC NEWS
New Compound May Offer Power of Morphine With Less Risk
Neuroscientists Propose New Model for Understanding Fear, Anxiety

CBT for Ultra-High-Risk Patients Lowers Incidence of Psychosis
Joint Commission Releases New Standards for Eating Disorder Programs
Primate Brain Atlas Reveals Details of Gene Expression Across Early Lifespan

American Psychiatric Association Publishing
Book of the Week


Becoming Mindful: Integrating Mindfulness Into Your Psychiatric Practice

Erin Zerbo, M.D., Alan Schlechter, M.D., Seema Desai, M.D., and Petros Levounis, M.D., M.A.

>>description, contents, and reviews

>>order the book

Job Hunting Made Easy: Here's Help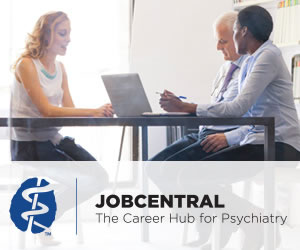 Click here for current job opportunities with APA JobCentral. Search the site for available positions, post your resume, and set up job alerts.
Check out the latest issues of
APA's major periodicals.

Psychiatric Services
Open Forum: The Ethics of Coercive Treatment
Although the U.S. Senate refused to ratify the United Nations Convention on the Rights of Persons With Disabilities, which links coercive treatment to torture, the decision to use coercive treatment should be guided by ethical guidelines that respect the equal "legal capacity" of all persons.
Humble Leaders Create an Environment for Change
Mental health service organizations with "humble leaders"—supervisors who underestimate their leadership abilities—were shown to have a more positive climate for supporting implementation of evidence-based practices.



>>subscribe to blog rss
>>subscribe to blog via email